Welcome to Jupe's Blog
14/01/14 14:18
Welcome to Jupe's Blog!

Over the past several years I've gone from a complete amateur in the history and botanical world to an enthusiastic proponent of Sir Joseph Hooker, to me, the Unknown Hero of Evolution and probably the greatest British botanist. In my view he is still highly relevant to our changing world. This blog will be following my journey from the original idea and visit to the Royal Botanic Gardens at Kew, through the first major expedition into the Eastern Himalayas, a return visit in the monsoon to photograph rhododendrons, trips to the Antarctic, Morocco, New Zealand, the USA, the UK and various parts of Australia.

I'll be describing my aims in making the Joseph Hooker documentary series. There will be descriptions of how to organise a major Himalayan expedition, the equipment to take, and the difficulties and fun during our expeditions. I'll be also keeping a running record of the progress in expanding the current eight short videos on Vimeo to more than twenty. These include stories on locating the unknown first sketch of Mt Everest done by Hooker eight years before it was officially measured and named, and how his paintings of Himalayan glaciers in 1848 show how much things have changed there. I'll be showing how he contributed to the Theory of Evolution, not only as Charles Darwin's closest friend, but in his own right, and telling stories about some of the many plants he discovered, including one which changed the future of a Himalayan kingdom.

I'll be talking about how difficult it is to interest broadcast networks and film financiers in such a project and why I've chosen to present my project via short episodes rather than a major two part TV special. I'll be talking about life in our home in rural Australia, our native animals, birds and bushfire preparedness at this time of year. I hope that you come along for the ride.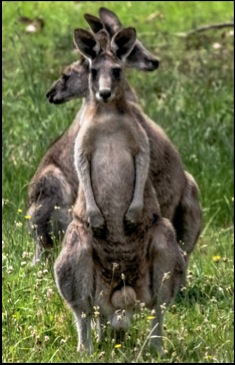 Our own three headed kangaroo